Who is actually responsible for what at Heliotron? As a customer this site will help you to find your contact within the company and as an applicant you can get some insight on who will be your future colleagues. We are a fantastic team of extraordinary characters. Get in touch with some of our team members and inform yourself about the different functions at Heliotron and to get to know us better. That's the first step towards becoming a part of our company!
Meet our FIELD SALES
We are always out visiting people and spend every day getting new customers excited about our diverse products. We regularly visit existing customers and present new products to them. We are the face of the company and sales people through and through. We are a team of top class sales people and every day we look forward to new things and being in contact with our clients!
What are we doing?
Our sales representatives in Field Sales are top class sellers! We understand how to convince our customers of our diverse products every day and how to present the best solution for the customer.
We convince customers straight away, without any diversions. We plan our daily routes independently, work mainly with cold leads and are also able to make use of the support from our Contact Center every now and again for scheduling. For our daily work, our planning and preparation for customer visits, we have a state-of-the-art Customer Relationship Management System, which we use constantly to keep up-to-date on everything relating to our clients.
What distinguishes us?
We love coming to an instant sale and of course we also love developing and nurturing customer relationships with follow-up visits. A happy, satisfied customer is what gives us our greatest satisfaction. When we achieve that, then we have done our job 100% right.
And what if… ?
We would be lying if we said we didn't get the occasional complaint or dissatisfied customer. In these cases, we communicate closely with our colleagues in our Inside Sales department and the Customer Service department to ensure that the problem is resolved immediately and to the satisfaction of the customer. We believe that in today's world, a customer whom we have been able to convince with our top class customer service is the foundation for a strong, sustainable customer relationship.
Who is responsible for which area? Find your point of contact!
Meet our Inside Sales Team
To ensure that the "lights don't go out" prematurely for our customers and that they are always happy, we regularly nurture our customer relationships by phone, social media or email, take orders and requests or complaints, and ensure that these are dealt with quickly and to our customers' satisfaction.
What do we do?
Just as our colleagues in Field Sales are the face of the company, we are the voice of the company. We make sure that every single one of our thousands of customers receive the attention that they need to establish a perfect customer relationship. Along with their Field Sales Representative, each of our customers has an Inside Sales Account Manager who takes questions, requests or suggestions and tries to resolve these as quickly as possible. The main focus here is on the personal relationship that we establish with our clients.
However, along with all the conversations we have with clients, we are also always there for our colleagues in the Field Sales team and support them by providing all the information they need. Whether it's for initiating new business and acquiring new leads, answering questions for existing clients or helping new colleagues in the Field Sales team to get a good start in their area of work.
What do we want to achieve?
For us, good customer service is a fundamental requirement! But for us, good is not good enough by a long shot. Every day, we put all our efforts into creating the wow factor for our clients by offering them customer service that they have never experienced before.
How can that be achieved?
Every customer can reach us either by email at insidesales@heliotron.com or via social media (#heliotron). Our existing customers have direct access to their own personal customer representative and can reach them directly on their phone extension.
Interested? Then apply here!
Meet our Contact Center team
We are always there for our customers! Whether it's answering incoming phone calls or carrying out route planning for our colleagues in Field Sales… Here everything shares the same aim: providing a unique, positive customer experience.
Every call to our central phone number comes in to us initially; it is then systematically recorded and forwarded immediately. Lots of queries can be resolved straight away in a short space of time on the phone. More complex queries are forwarded to a relevant point of contact who has the required knowledge.
Along with telephone queries, we also deal with emails that come in to the central email address within just a few hours and ensure that our customers always retain a positive service experience in their mind. We love our customers and anyone who would like to become a customer, and we are happy to receive every one of your calls and emails.
However, we are not just responsible for inbound communication; we are also involved in outbound communication in that we support sales by carrying out scheduling and route planning for our colleagues in the Field Sales team. For this, we rely on the latest technology which enables us to plan an optimum route for the day, ensuring that as many meetings as possible can be scheduled into each day. In order for all of this to run smoothly, it is essential to be in constant contact with our colleagues in Field Sales.
To ensure that every customer gets exactly what they ordered, we make sure that customer orders are processed straight away. We clarify specific customer requirements and handle complaints to the satisfaction of the customer. We know each individual Heliotron product inside out, and this enables us to provide sound answers to any questions that we receive.
We check every incoming order that we receive again to ensure that the products or product combinations which have been ordered are in fact possible and deliverable. We ensure that the order is put together quickly and is dispatched equally as quickly.
We are the good fairies of the company and, along with managing constant business correspondence, the ongoing electronic archiving of documents and the constant requirements for the daily running of the business, we also make sure that every employee and visitor feels happy and welcome with us.
Of course, we also support our colleagues from the different business divisions in coping with their work and we take on any administrative tasks that they need completing.
HR / Finance & Accounting
We love facts and figures, and we are responsible for presenting the accounts for our day-to-day business operations and always keeping them up-to-date, analyzing key financial figures and preparing figures to assist decision-making. We are also responsible for personnel management and we take care of the administrative side to ensure that every member of the Heliotron family has the best possible start in their job.
Meet our Production team
We make sure that our products always meet the quality that we expect. We produce a large number of liquid wax candles and Natural Candle Shells every day so that we are always able to deliver to our customers promptly.
Meet our Logistics team
We are here to make sure that our customers always receive their orders on time and that they are complete and correct. We also ensure that we always have an optimum availability of goods. To ensure that our flow of goods is executed efficiently, we use our ERP-System SAP Business ByDesign for all logistical processes, and every employee in our warehouse works with this every day. This ensures that every time goods are moved, it is recorded and registered immediately. This means that we are usually able to guarantee that orders will leave our warehouse a maximum of 4 hours after the order is received.
A fully automated procurement planning system helps to create optimum stock availability. This enables us to guarantee a continuous ability to supply our products – even in the event of unforeseen fluctuations in demand for individual products.
IT Support is the first point of call for those who need to find quick, easy solutions to existing IT problems. We also make sure that every employee is always able to access the latest IT.
It is important to us that every employee feels certain that they are fully trained in exactly the right IT components which are required for them to carry out their individual daily work efficiently.
Online and offline marketing, SEO & SEM, newsletters, social media, websites, PR, advertising… All in one campaign… this is where lots of new ideas arise and marketing concepts go from their initial drafts to fully developed final products. All adapted, of course, to our extremely different target groups.
We don't dive into work without a plan; we analyze the conditions so that we can achieve our aim successfully and efficiently, matching up current trends with our demands.
We want the viewer to really experience what they see and remember it.
Internships / APPRENTICESHIPS
Everyone has to start somewhere… An internship at Heliotron will give you a comprehensive insight into the daily life of your chosen profession. Take the opportunity to become part of our team! Heliotron is also one of the training enterprises that is recognized by the German Chamber of Industry and Commerce (IHK) as offering a variety of training options.
Along with traditional apprenticeships, we also offer units of practical work experience as part of an integrated degree program.
Oliver Schneeberger
Company Director
Oliver is the Director of Heliotron Deutschland GmbH with sole power representation, and in this role he represents the company. Building on the ideas and vision of his father, he taps into new markets and geographical areas with his team. He is also responsible for the company strategy and operational business with regards to management, organization, finances, logistics, purchasing & customer service.
Oliver studied Business Management, specializing in Intercultural Management, Financial Economics & Marketing at Munich Business School, as well as at the Munich University of Applied Sciences. He completed some of his studies in the USA.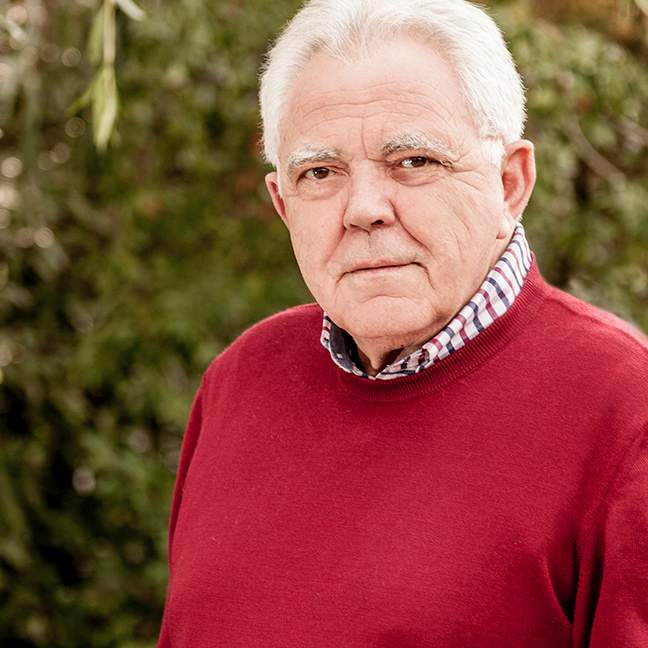 Peter Schneeberger
Founder / Advisor
Peter is the true father of liquid wax candles. He founded Heliotron Kerzen GmbH in 1976 and over the subsequent decades expanded it with more business divisions. He has worked with candles his whole life, and throughout his many years of experience he has developed a sixth sense for selling products that require explanation.
Today, as an external advisor, he is still responsible for Field Sales and the production of our products. As part of his advisory role, he is also available to advise his son Oliver, the company director, on strategic issues.
Interested? Then apply here!